Welcome to the Arcade preservation Wiki
[
]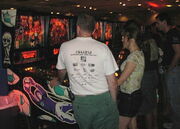 Like coin-operated video and/or pinball games? Want to immortalize the arcades that you played them at, being past and/or present? Well, you can do that here!
Be sure to check out the how to write an article page for guidelines in regards to formatting specifically for this wiki (although it is quite simple as compared to others) and what we are looking for in order to help preserve arcade history.
There have been 180 arcades (and other memories) in seven countries preserved since September 14, 2014.
Creating new articles
[
]
Pretty simple stuff, really:
Type up the name of the game room you want to write about in the search box (at top center of this page [next to the magnifying glass]) and hit enter.
Click on the Contribute button at the top right (right next to the page total), click on Add new page, then type in the name of your game room in the Write your page title here area and hit Enter to start the article.
And that's pretty much it! There's more to that though, of course, which can be seen in the how to write an article page, plus the head admin can be contacted at his talk page if you have any questions in regards to preserving arcade history.
Featured arcade of the month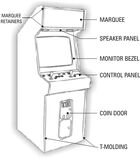 Atari is a company that created many
handheld, console, arcade
and
computers
, as well as thousands of games for those platforms.
Atari Adventure
was a chain of arcades across the United States usually comprised of various
video games
and
Atari personal computers
(such as the
Atari 400
and
800
) that were set up on the premises for people to play games on, among other attractions.
Locations
Atari Adventure Amusement Center
(More can be seen here.)

(Previous Featured arcades of the month can be seen here.)
Latest activity
[
]