Welcome to the Arcade preservation Wiki
[
edit
|
edit source
]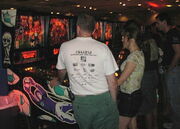 Like coin-operated video and/or pinball games? Want to immortalize the arcades that you played them at, being past and/or present? Well, you can do that here!
Be sure to check out the how to write an article page for guidelines in regards to formatting specifically for this wiki (although it is quite simple as compared to others) and what we are looking for in order to help preserve arcade history.
There have been 165 arcades (and other memories) in six countries preserved since September 14, 2014.
Pretty simple stuff, really:
Type up the name of the game room you want to write about in the search box (at top center of this page [next to the magnifying glass]) and hit enter.
Click on the Contribute button at the top right (right next to the page total), click on Add new page, then type in the name of your game room in the Write your page title here area and hit Enter to start the article.
And that's pretty much it! There's more to that though, of course, which can be seen in the how to write an article page, plus the head admin can be contacted at his talk page if you have any questions in regards to preserving arcade history.
Featured arcade of the month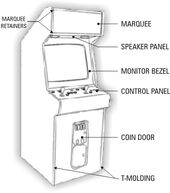 Memorial City
is a mall that was built in Houston, Texas that opened for business in 1966. It has since grown to having over 140 stores and services over the years.
Green's
, later located inside
Memorial City Mall
, originally began as a small game room at the
Sears
department store located inside the Mall with several games (such as
Asteroids
by Midway and
Route 16
). When
Green's
opened up, the games inside the
Sears
arcade became the full-sized
Green's
game room.
Known games
Armor Attack (The rest of the article can be seen here.)

(Previous Featured arcades of the month can be seen here.)
Community content is available under
CC-BY-SA
unless otherwise noted.