Exhilarama (Memorial City Mall)
Years active
1993 - 2000
Number of games
Dozens
Located
U. S. A.
Status
Closed
Background
[
]
Memorial City Mall in Houston, Texas is a shopping mall located at the intersection of Interstate 10/U.S. Route 90 and Gessner Road (or 303 Memorial City). Constructed in the early 1960s, the mall has since grown to be one of the city's more popular malls, mostly due to a large renovation project that took place in the early 2000s.
Exhilarama was a brand of Edison Brothers Mall Entertainment (EBME), a unit of Edison Brothers Stores (EBS). Most locations housed arcades, rides, laser tag and kids' play structures. Fame City was a similar outfit that opened in Memorial City Mall in 1989, but did not do well, which this location was bought out by Exhilarama.
Memorial City Exhilarama
[
]
This Exhilarama was a 47,000 square foot indoor Family Entertainment Center, which opened on December 11, 1993[1]. It included a number of rides, a large kids' play structure, party areas, laser tag (known as Laser Ex), a prize redemption area, a snack area, virtual reality, video games and pinball machines. It had a large storefront inside the mall and an outside entrance.
Following a 1995 bankruptcy, parent company EBS sold off select Exhilarama locations to Namco Cybertainment in 1996[1]. Namco did not exercise the right to buy the Memorial City location, and control of the facility was passed to Nickels and Dimes (owners of the Tilt chain), who offered to operate it while the mall worked on a redevelopment plan that eliminated the entertainment center. At different times during these years the play structure was removed, Virtuality was eliminated, select rides were removed and replaced with arcade games, and laser tag closed.
Mall remodeling proceeded in late 2000[2]. Exhilarama was demolished, and most of its former space was remade into anchor store Lord & Taylor (later J.C. Penney). A shallow portion of the interior storefront remained, facing the newly expanded food court and Venetian Carousel, and became Tilt (Memorial City Mall).
Known games, video
[
]
Contra
Cruis'n USA
Daytona USA (two player cockpit model)
Gunblade Special Air Assault Force NY
Mortal Kombat
Mortal Kombat II
Pit Fighter
San Francisco Rush
Spider-Man
Street Fighter II
Super Shot Basketball (four player model)
Tekken
Time Killers
Tokyo Wars (four player cockpit model)
Total Carnage
Virtua Fighter
Virtual On
Virtuality racing game/area
War (several players linked model)
X-Men
(others)
[
]
Air hockey tables (at least two)
Basketball hoops games (two)
Batman Forever (pinball)
Big Choice
Demolition Man (pinball)
Elvira Scared Stiff (pinball)
Jungle Jive
Lucky Bingo (two)
Roll Gold
Skeeball machines
The Flintstones (pinball)
Twilight Zone (pinball)
Gallery
[
]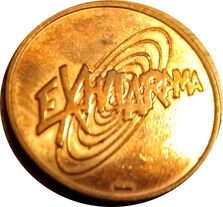 External references/links
[
]