Well, what can I say, other than I've played and loved (still do!) video games since playing my very first one at age 6 or 7 (that was so old it was in black and white!). Upon being dismayed that there doesn't seem to be (m)any sites preserving the memories of past arcades (or even present ones), I decided to start this very wiki up. Please help add to it!
Into video games (duh!), digital photography, music (from pretty much anything from new age to death metal), law
Some links of interest (or not)
Edit
Doing all the gaming stuff in one fell swoop, my other video game wikis include my Vectrex and my Bottom of the Screen Shooter, or BOTSS wikis. I also founded the vector gaming forums too, although it also has discussions from anything from the earliest Pong consoles to the most current iOS/Android apps as well.
My YouTube channel (complete with, yes, several video game presentations ;) )
I also have an abandoned places wiki, which is non-video game-related (gasp!)! So if anyone's into that kind of thing, do feel free to drop on by! (Only a few articles thus far though)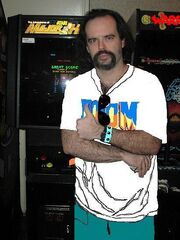 Community content is available under
CC-BY-SA
unless otherwise noted.